Doug Fishbone is an American artist living and working in London. He earned an BA from Amherst College in the US in 1991, and MA in Fine Art at Goldsmiths College, London in 2003. Selected solo exhibitions include Tate Britain, London (2010-11), Rokeby, London (2010-11, and 2009), Gimpel Fils, London (2006) and 30,000 Bananas in Trafalgar Square (2004). Selected group exhibitions include Rude Britannia: British Comic Art, Tate Britain (2010), Busan Biennale, Busan, South Korea (2008); Laughing in a Foreign Language, Hayward Gallery (2008), London; British Art Show 6, Newcastle, Bristol, Nottingham and Manchester (2006). He performs regularly at both international and UK venues, including appearances at London's ICA and Southbank Centre.
His film and performance work is heavily influenced by the rhythms of stand-up comedy – he was described by one critic as a "stand-up conceptual artist" – and examines some of the more problematic aspects of contemporary life in an amusing and disarming way. He is particularly interested in examining questions of relativity and perception, and how audience and context influence interpretation.
His 2010 film project Elmina, made in collaboration with Revele Films in Ghana, had its world premiere at Tate Britain in 2010 and was nominated for an African Movie Academy Award in Nigeria in 2011. Elmina was voted no. 35 on Artinfo's survey of the 100 most iconic artworks of the past 5 years in 2012.
Fishbone's practice is wide-ranging, using many different popular forms in unexpected ways. He curated Doug Fishbone's Leisure Land Golf, a bespoke art/crazy golf course featuring some of the UK's leading artists, at the 56th Venice Biennale in 2015, and in the same year, he collaborated with the Dulwich Picture Gallery in London, one of the nation's most prestigious Old Masters collections, on a solo project involving switching one of the Gallery's masterpieces with a replica made in China. Other recent projects include a series of guided bus tours in Aberdeen as part of the Look Again Festival in 2016, and a series of riverboat performances on the River Thames called Doug Fishbone's "Booze Cruise", originally commissioned as part of the Mayor of London's Thames Festival in 2013 and 2014.
His project Artificial Intelligence (2018) was commissioned by werkleitz within the framework of EMAP / EMARE and Co-funded by the Creative Europe Program of the European Union, and he exhibited a specially commissioned video "The Jewish Question" in the exhibition "Jews, Money, Myth" at the Jewish Museum, London in 2019.
He has performed at many major venues, including the Hayward Gallery, ICA London, the Southbank Centre, Hauser and Wirth Somerset, and the Royal Academy.
He presented a major new commission entitled Please Gamble Responsibly at the Crawford Art Gallery in Cork Ireland in the spring/summer of 2021. His most recent project The Earth Abideth For Ever, presented at Leicester Contemporary in 2022, examined cancel culture and Britain's enduring history of anti-semitism.
He is a member of the Board of Trustees of the Yinka Shonibare Foundation, an organization which fosters international cultural exchange established by the British-Nigerian artist Yinka Shonibare.
Fishbone lives in London with his wife, the artist Karen Russo, their daughter Tallulah and son Harrison.
The Earth Abideth For Ever
Leicester Contemporary, April 8-23, 2022

One generation passeth away, and another generation cometh: but the earth abideth for ever.
Ecclesiastes 1:4
"The Earth Abideth For Ever" at Leicester Contemporary examines cancel culture and anti-Semitism in Britain through the figure of Simon De Montfort, one of Leicester's most famous sons. Memorialised in an elegant stone sculpture on the Clock Tower in the city's centre, and in the names of both De Montfort University and De Montfort Hall, his legacy is tainted by his expulsion, as the 6th Earl of Leicester, of the city's Jewish community in 1231. He did this, in his own words, "for the good of my soul, and the souls of my ancestors and successors".
How does such a polarizing character, who spent time as a Crusader in the Holy Land, remain relevant to Britain's contemporary vision of itself? Should this monument be torn down?
A massive inflatable statue of De Montfort in the centre of the gallery, more than 4 metres tall, suggests a more practical way forward. An inflatable, temporary monument seems somehow more fitting for the times - it can be unplugged and removed if it offends contemporary sensibilities, and re-inflated when the political climate swings back in a more racist direction.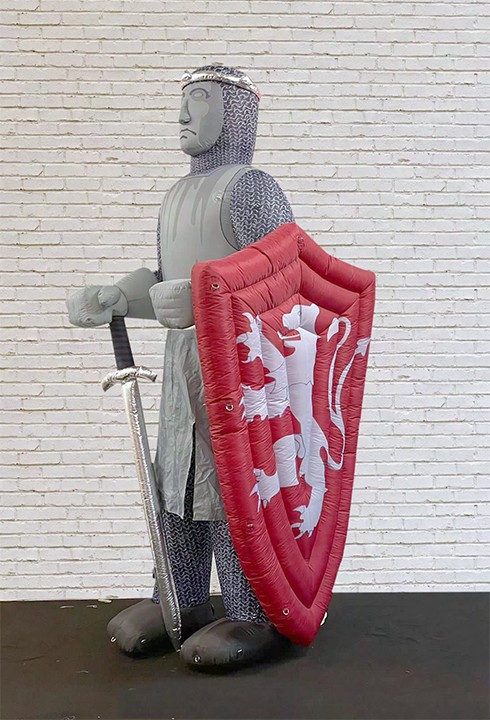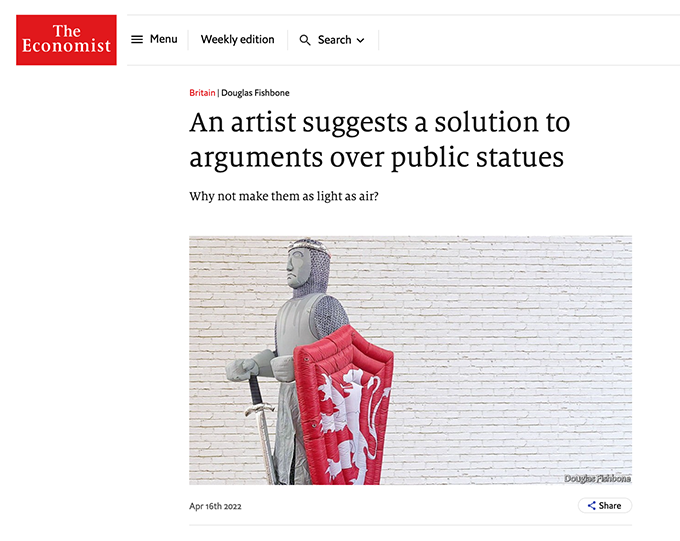 https://www.economist.com/britain/2022/04/16/an-artist-suggests-a-solution-to-arguments-over-public-statues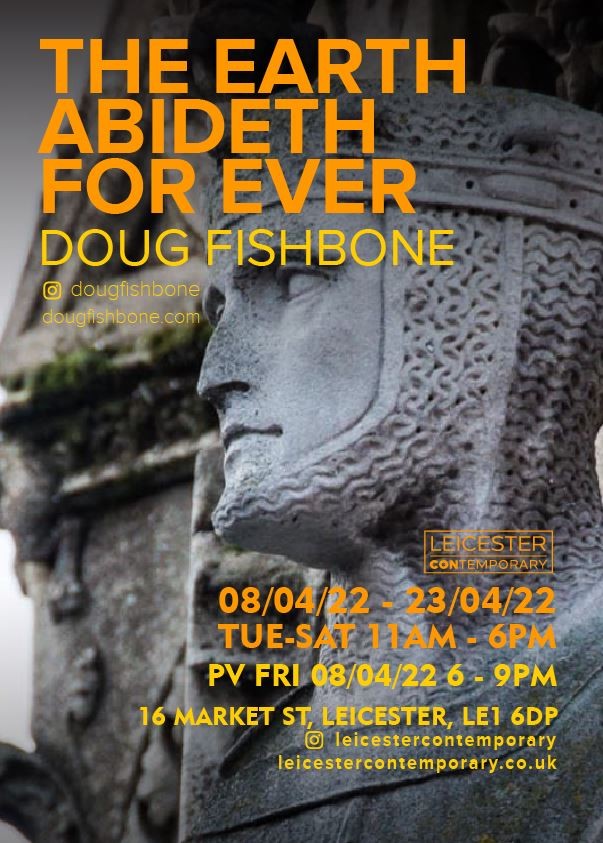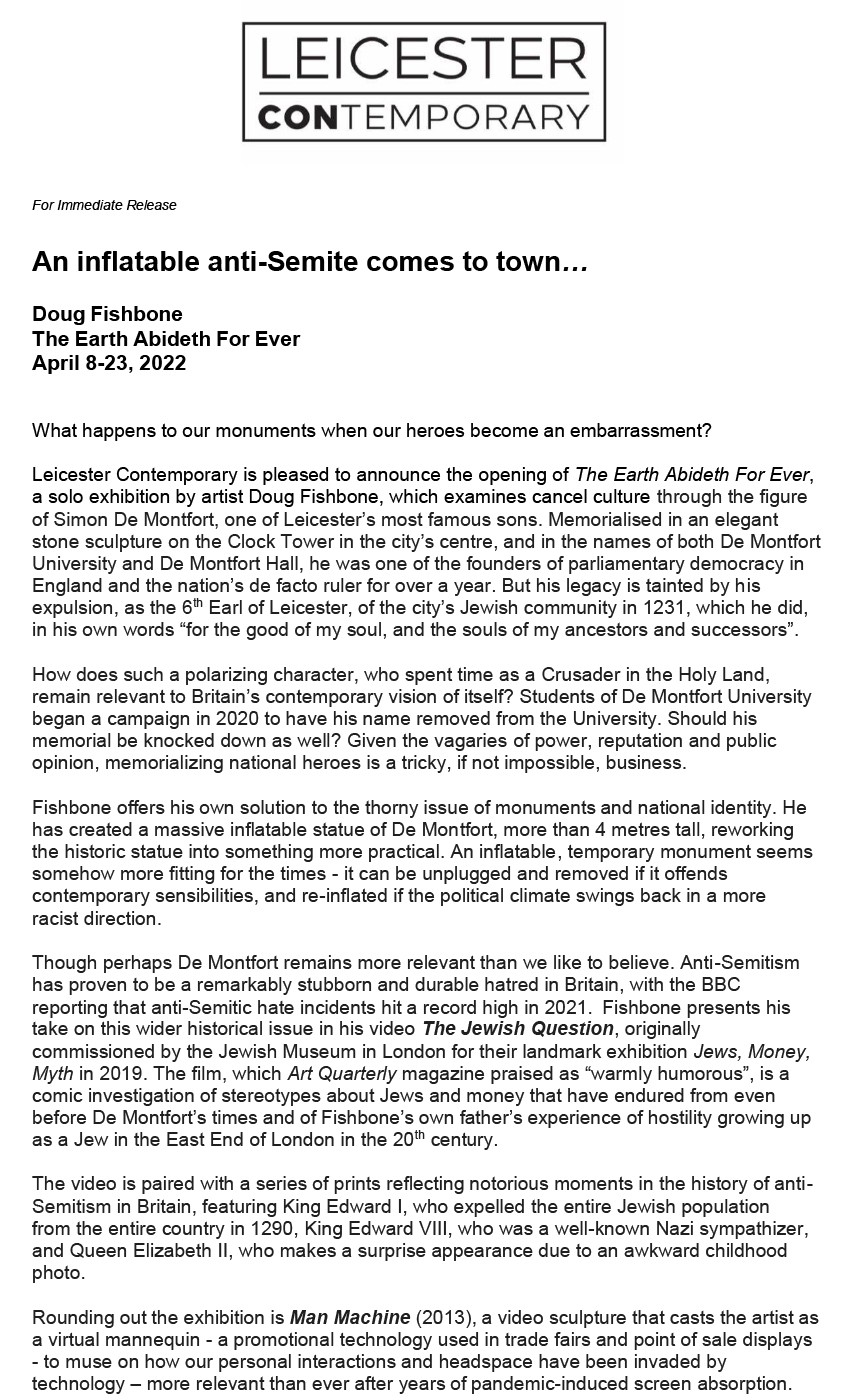 ---
Luft Gesheft is Fishbone's first major new live work in several years, and his longest performance piece to date. Looking at everything from Pablo Escobar's hippopotamuses, Polynesians taking vacations in Hull, to Richard Nixon and the Gold Standard, the piece is a comic slide-show lecture illustrated with hundreds of images downloaded from the internet. Fishbone has developed an innovative form of story-telling that sits at the crossroads between high and low art, leading one critic to describe him as a 'stand-up conceptual artist'.
The work presents a form of visual rhetoric that uses strategies of advertising and propaganda to explore the often dubious relationship between image and text, and some of the more problematic aspects of contemporary Western life, particularly the absurdities of our financial system and our twisted relationship to the environment.
The Jewish Question (2019)
"The Jewish Question" looks at the various stereotypes and misconceptions about Jews and money over the years. It examines these questions through the prism of my father's experience growing up in the Jewish community of the East End of London, as well as my family's broader immigration history rooted in fleeing antisemitism in Europe. The film uses humour to debunk many of the more outlandish conspiracies that surround ideas of Jews and money, and the position of Jews in the world in general.
The film was commissioned as part of Jews, Money, Myth, a major exhibition exploring the role of money in Jewish life, at the Jewish Museum in London in 2019. It has subsequently screened at the Kassel Festival in Germany and the UK Jewish Film Festival in London.
The film is 10:00 in length.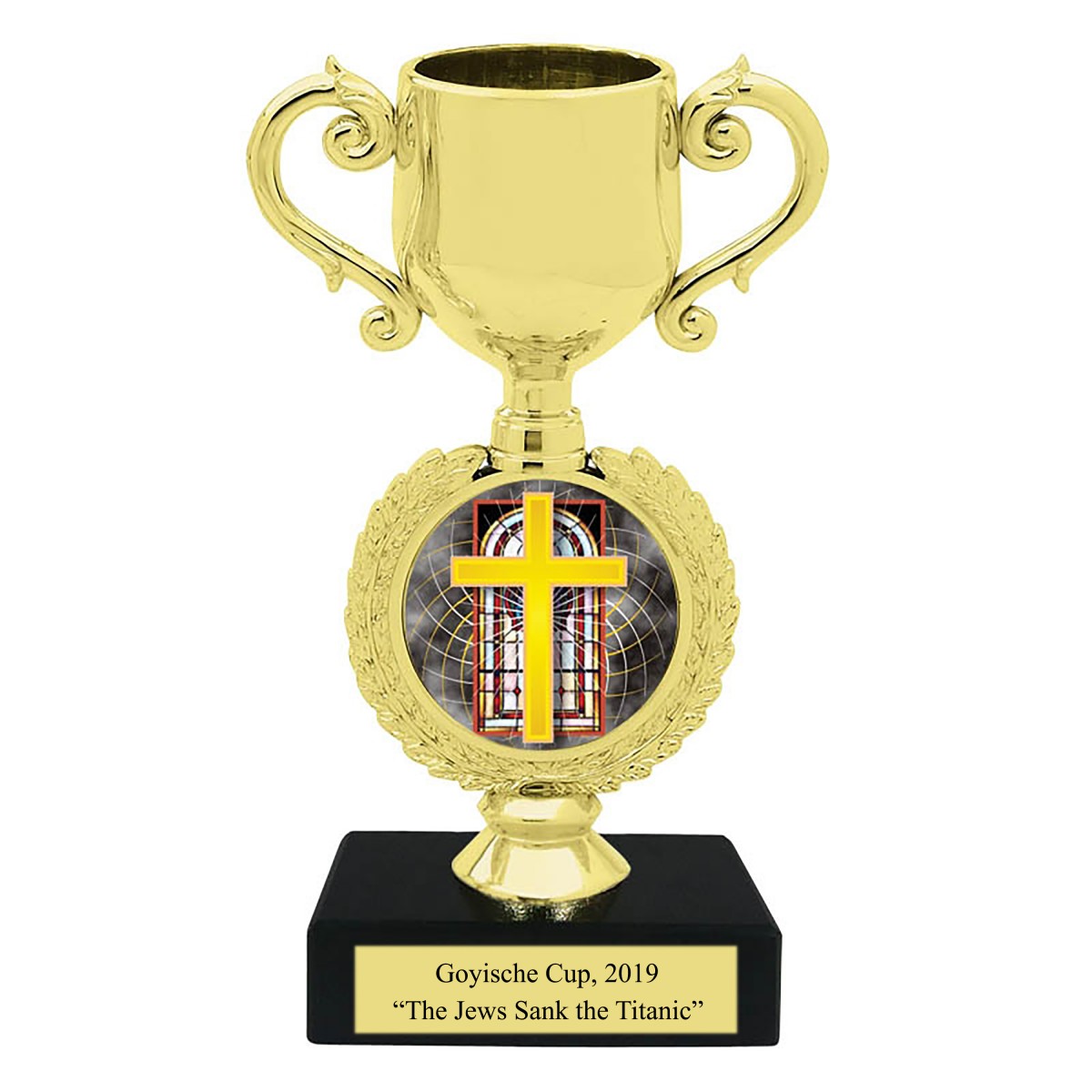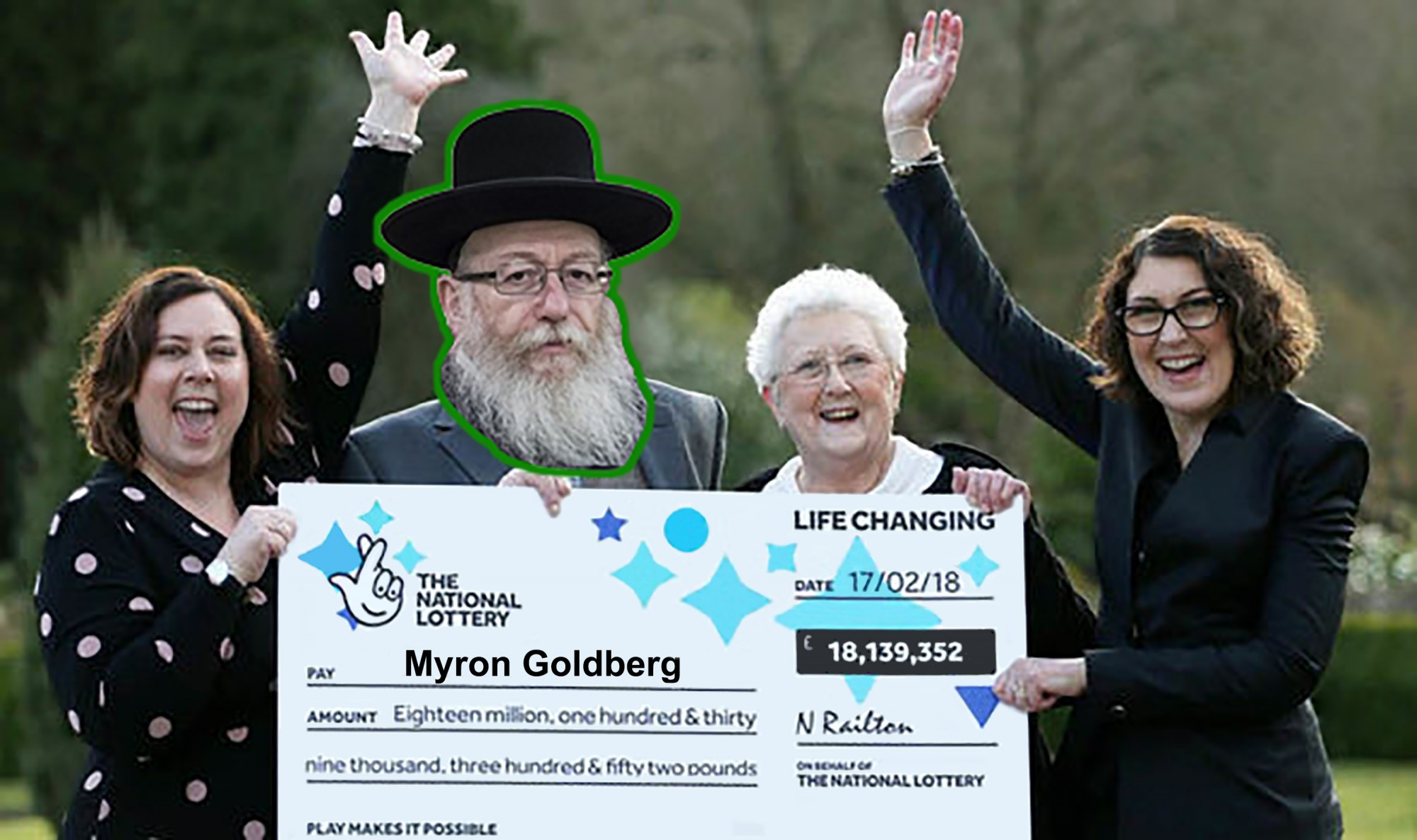 Artificial Intelligence (2018)
Artificial Intelligence (2018) is a machine that dispenses wisdom in return for a 10-cent investment. A short meditation on time, impermanence and loss, it was originally installed in the Marktplatz in Halle, Germany, the city's main square, where it was commissioned by the werkleitz Festival with funding from the European Union. Spanning from the theft of the Mona Lisa in 1911 to the shortages of sausages in the German Democratic Republic to the Mahabharata, it offers an unusual perspective on the rise and fall of human civilization through the prism of the chaos of 20th- century Europe.

Assuming the form of a conventional touch-screen kiosk like those found in cities and public spaces all over the world, the piece grants a moment of pause to consider the fragility and vanity of our daily lives, though with a light-hearted touch. A machine that might normally do something very straightforward, like process a ticket or parking receipt, or issue directions to tourists, has been re-tooled into something strange, injecting a brief dose of ambiguity into the daily urban routine.
Attracted by a hypnotic swirling spiral, the viewer touches the screen, and is then asked to insert a 10-cent coin without any inkling as to what it might purchase. Upon payment, she is then offered the chance to view a short film in either German or English, touching the appropriate flag icon on the screen corresponding to the desired language. What unfolds is a comical and philosophical narrative using a slideshow of historic images, a journey through the turbulence of war-time and post-war Germany and its legacy of instability. The audio narration is heard via a telephone handset attached to the side of the device.
The piece is a kind of art robot of the lowest order – a mechanized deliverer of intellectual content, but already outmoded and behind the times. After all, who pays for anything with cash any more, let alone ten-cent coins? In this way it reflects an ambivalence towards AI, as it stands poised to replace huge swathes of human labour and make many of us redundant in the process. Sitting outside contemporary financial logic, it finds an awkward space to occupy – offering a potentially useless product (the artist's speculation on the state of the world) at a price that is virtually free.
Commissioned by werkleitz within the framework of EMAP / EMARE
Co-funded by the Creative Europe Program of the European Union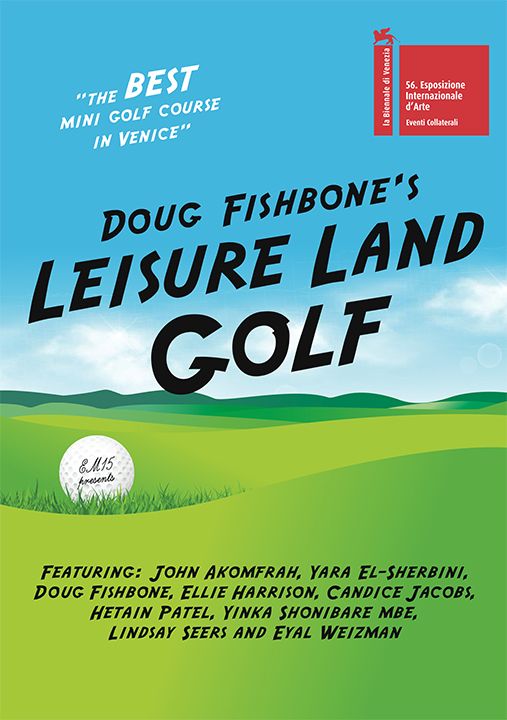 EM15 Presents: Doug Fishbone's Leisure Land Golf
at the Venice Biennale 2015
6 May – 26 July 2015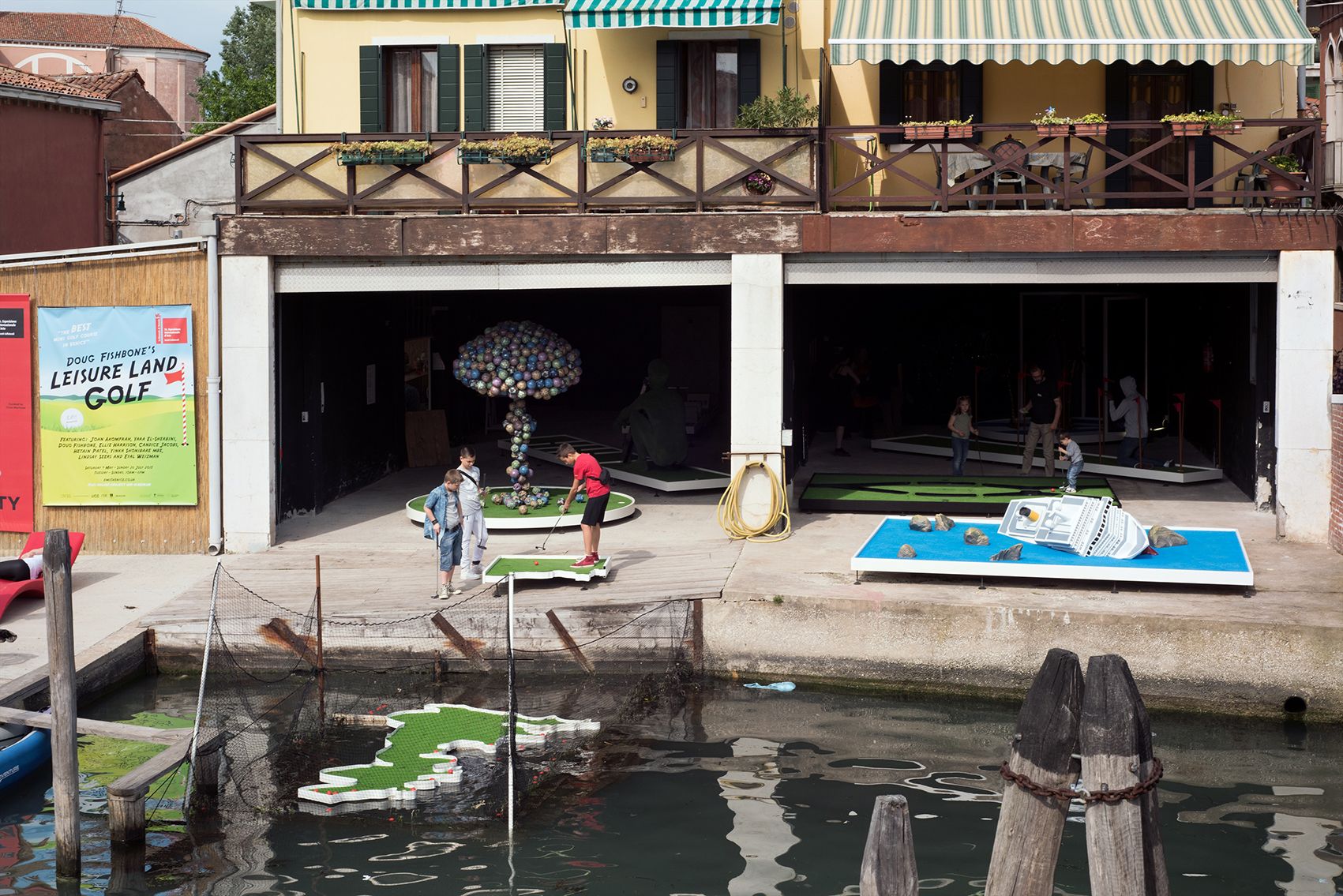 Photo: Thierry Bal

The EM15 partnership invited you to tee off at the Venice Biennale in 2015 with Doug Fishbone's Leisure Land Golf, a fully playable mini golf course for which nine artists have each been commissioned to design a hole.
EM15 was a new partnership between artist-led organisations and institutions from the East Midlands, UK,: New Art Exchange, QUAD, One Thoresby Street, Beacon Art Project and the academic partner Nottingham Trent University, with digital engagement support from the University of Nottingham.
Mini, or crazy golf, as it is sometimes known, with its comical miniature obstacle courses and associations with tacky seaside holidays, sits strangely comfortably in the modern Venetian cityscape, which attracts a mix of well-heeled and mass-market holiday-makers and cultural adventurers: a water-side tourist trap spilling over with baubles; a city bursting with unparalleled cultural riches.
Doug Fishbone's course invited the artists to respond to 'The Leisure Principle', where consumer satisfaction is prioritised at all costs. Each of the holes can be read as an autonomous work, but by playing a round and immersing oneself in the game, one can experience a coherent and at times disturbing sense of a world (mis)shapen by our consumer habits and desires.
Alongside Leisure Land Golf, EM15 commissioned Sunscreen (www.sun-screen.uk), an online project by artist Candice Jacobs that includes the work of 40 artists invited by Jacobs and the EM15 partnership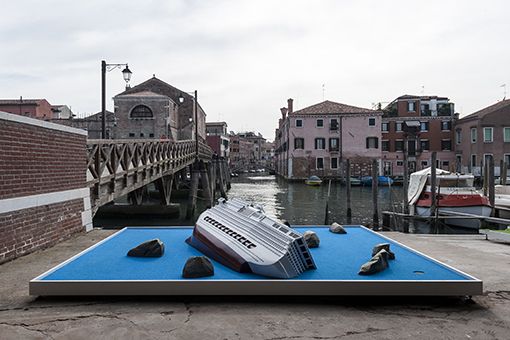 Doug Fishbone's Costa Concordia. Photos: Sebastiano Luciano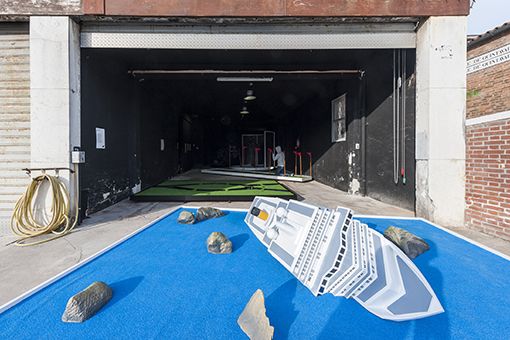 Doug Fishbone's Leisure Land Golf participating artists and their golf holes:
John Akomfrah examines the mediated images of death, in particular of unarmed African Americans shot by police in the United States in recent years, where the hoodie, the ubiquitous costume of the disenfranchised youth, becomes a threat to the status quo.
Globalisation has ostensibly opened up borders but some boundaries remain inflexible and ironclad. Yara El-Sherbini replicates various aspects of the day-to-day reality within territories under occupation, exploring separation barriers as an historical and universal means to control and limit the movement of people worldwide.
Doug Fishbone presents a model of the wreck of the Costa Concordia, which was driven into the rocks off the coast of Italy by its captain in 2012. Like few other symbols, the cruise ship embodies the contradictions of capitalism - class divisions and reckless leadership, indifference to its workers, disregard of the environment, the hidden price tag for a few days of fun in the sun.
As the final hole Ellie Harrison's Life Raft – a scale map of the UK floating in the adjacent canal – offers a safe haven to immigrant golf balls that can make the treacherous crossing. In a typically playful way, Harrison's work hints towards a somewhat darker time in the future, when the continued rise in global temperatures creates a vast number of "climate refugees" desperate to escape to more temperate climes; a future which will likely make the current animosity towards immigrants being witnessed across Europe, seem trivial.
Candice Jacobs explores the meaninglessness of aspiration within cognitive capital frameworks.Making reference to the seductive use of capital and gender in popular television game shows, Jacobs questions whether our habitual behavioural patterns can be influenced by television programming and the internet, to make us vulnerable to exploitation by global markets and governments.
Hetain Patel's squatting figure exhibits a characteristic posture of India that is only adopted by the working and lower classes. The displacement of this posture to Europe in a game of mini golf - itself a working class leisure activity – frames industrial cultural exchange, specifically production lines involved in import/export.
Lindsay Seers' golf hole for Venice features a figurehead upside down and pregnant being attacked by two enormous snakes. The figure is Princess Salme of Zanzibar, daughter of a Circassian concubine in the Sultan's harem. Salme became pregnant by a German merchant and was smuggled out of Africa by a British sea captain to Europe; subsequently she was used as a pawn by both the British and German's in the carving up of East Africa. The golf ball's journey up a steep ramp, over a painting of an anamorphic British naval captain, finds its way through the snake's bodies. When it is finally spat out, it bounces off a rock painted with an image of a 'Circassian Beauty' from PT Barnum's freak show. You should be able to score a hole in one – you may win, but at what price?
Yinka Shonibare MBE explores the complexity of contemporary African identity and power relations between the West and Africa. The football pitch becomes a site for the struggle for economic survival, played out by the African football player for both himself and his team. This explosive tension is represented by a mushroom cloud of footballs decorated with Shonibare's signature African textiles.
Eyal Weizman presents an abstracted scale model of Kaliningrad, formerly known as Konigsberg, a city in Russia connected by seven bridges over the River Pregel. The aim of the game, based on the famed mathematical conundrum of the Seven Bridges of Konigsberg, is to return to your starting point by playing the ball across each bridge once only, a seemingly impossible task. The problem was unwittingly solved by RAF bombers during the last months of WWII, who made the route navigable by demolishing two of the original bridges.
EM15 Venue
40, Castello. 30122 - Venice
Use the GPS location 45°25'58.6"N 12°21'32.0"E to find the venue on google maps.
Please note you need to cross the Fondamenta Sant'Anna bridge to reach the EM15 venue. EM15 is adjacent to the pavilions of Bahrain and Catalonia.
Opening Times:
Open to the public: Saturday 9th May 2015 – Sunday 26th July 2015
Made in China
The Replica Revealed!
Dulwich Picture Gallery, London
February 10 - July 26, 2015
In 2015, I collaborated with the Dulwich Picture Gallery, one of the world's most prestigious Old Masters museums, on an unusual intervention in the collection. In 2014, I commissioned an inexpensive replica of one of the Gallery's masterpieces from a workshop in China, which was switched with the original - placed in its usual frame, in its usual spot on the Gallery's wall.
For three months, visitors were challenged to identify which one is the replica. Only about 11% of the voting public were able to spot it.
The replica was then revealed to the public on the BBC "One Show", where I sat alongside Nancy Sinatra.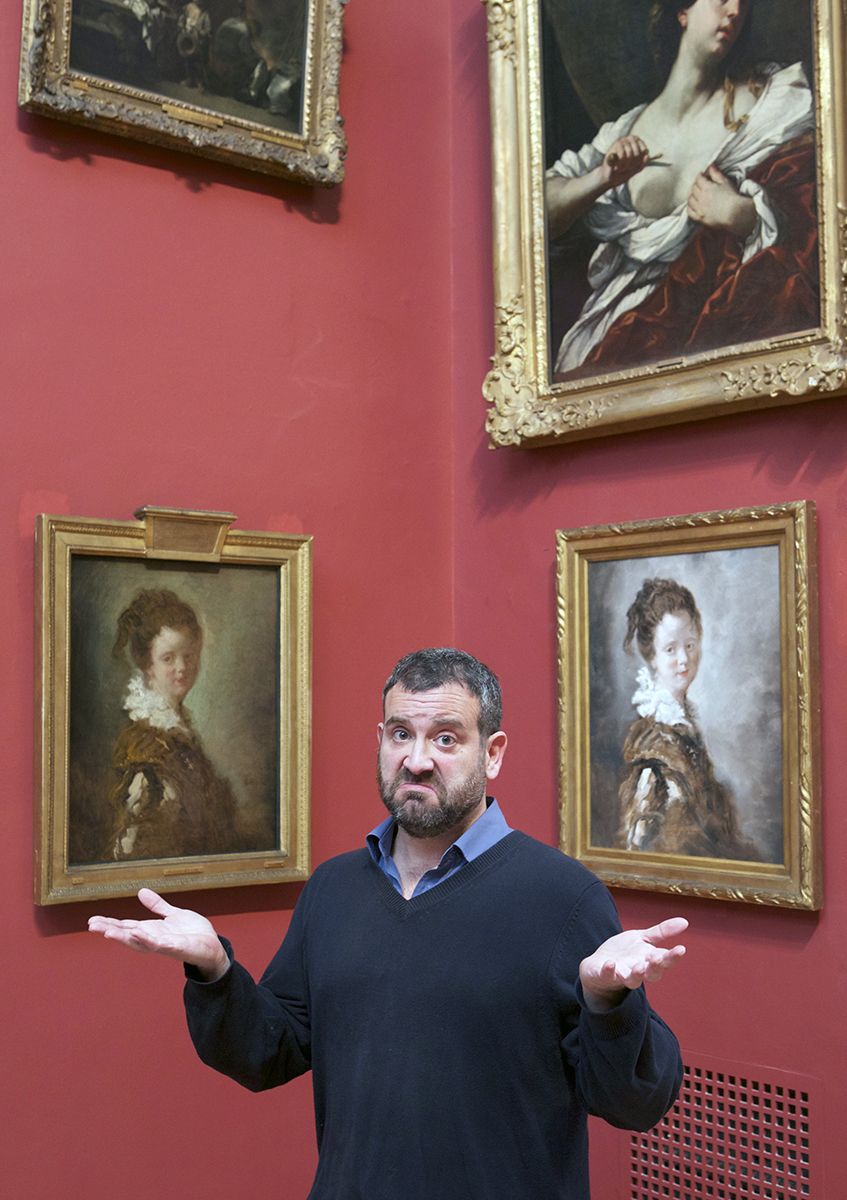 Photo by Stuart Leech
The original painting which was reproduced is Jean-Honore Fragonard's "Young Woman" painted in 1769.
For more information, and to see how many people were able to guess the replica:
https://www.dulwichpicturegallery.org.uk/about/exhibitions-archive/exhibitions-archive-by-date/2015-made-in-china-a-doug-fishbone-project/
For a bit more background on the project:
From BBC TV News:
http://www.bbc.co.uk/news/entertainment-arts-31387...
From The Guardian:
http://www.theguardian.com/artanddesign/2015/feb/1...
Photos courtesy of the Dulwich Picture Gallery.
Videos by Jared Schiller.
Boomin' Bus Tour
Friday April 29 - Sunday May 1, 2016
Look Again Festival, Aberdeen
"Stand-up conceptual artist Doug Fishbone is coming to the Granite City to front an alternative guided tour during Look Again.
Fresh from success at the Venice Biennale, the American artist who performs regularly at international and UK venues, will offer an unconventional viewpoint of the city and its heritage in his twice daily performance – Doug Fishbone's Boomin' Bus Tour - at the five-day festival.
London-based Doug Fishbone - whose film and performance work is heavily influenced by the rhythms of stand-up comedy - is expected to talk about a number of historical city sites and iconic buildings during his hour long performance. Departing daily from Seventeen on Belmont Street, he promises to take Look Again passengers on an unorthodox journey of some of Aberdeen's hidden treasures.
With a colourful career in arts and culture spanning more than two decades, Doug is known to examine some of the more problematic aspects of contemporary life in an amusing and disarming way. In September 2013, the artist was commissioned to create a series of riverboat performances on the Thames as part of the Mayor of London's "Thames Festival" (pictured).
More recently, he was commissioned by the Dulwich Picture Gallery in London to create "Made in China", a radical intervention into the Gallery's permanent collection using an inexpensive Chinese replica.
And his project "Doug Fishbone's Leisure Land Golf", an artist-designed crazy golf course where nine acclaimed artists designed a hole, was commissioned for the Venice Biennale in 2015 by the consortium EM15."
For more information and bookings:
Contact Us
dougfishbone at gmail.com